I don't know about you guys; but I love quotes. I love the wisdom of others poured out before us as real and as honest as the blood in their veins. So here's 5 quotes that I think will change the way you view missions and just maybe inspire you to do your DTS!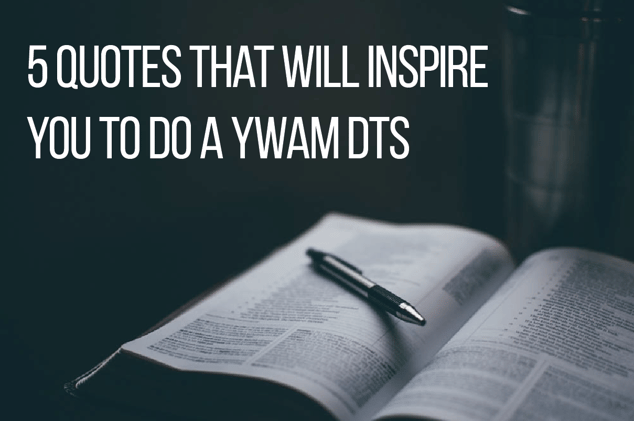 Christ not only died for all: He died for each.- Billy Graham
This statement was made by one of the greatest evangelists to ever live. It's beautiful to think about this and compare it to Jesus's parable of the lost sheep. Luke 15:3-7! In missions sometimes we forget that it's not always about the masses. It's about the one who is willing to give themselves into the arms of the father.
God's work done in God's way will never lack God's supply.- Hudson Taylor
There's two main questions that we have when God asks us to do something; we say, "What is it?" and "How do we do it?". Most of the time we spend so much time worried about the, "How" sometimes we don't realize that God's just saying that he's in control. All you need is the, "What." and he'll take care of the, "How?" I mean. He created the whole universe. He can handle what he's called you to do.
What's your dream and to what corner of the missions world will it take you?-Elanor Roat
In each of us God has placed passions, gifts and talents. We tend to summarize all of those into dreams. God didn't give these to you at random. What we have was given to us to make him known. So where will your dreams take you?
He is no fool who gives up what he cannot keep to gain what he cannot lose.- Jim Elliot
Again, Jesus talked about this in a parable. One of my favorites actually, Matthew 13:44, "The kingdom of heaven is like a treasure hidden in the field, which a man found and hid again; and from joy over it he goes and sells all that he has and buys that field." That all the things that he's ever owned are nothing compared to this treasure he found, which as Jesus states, is the kingdom of heaven. It is greater than anything we can have here. That includes fame and fortune.
Life is either a daring adventure or nothing at all.- Helen Keller

I love this quote. When you follow God, you submit to the greatest adventure you could ever commit to. One where you walk by faith and not by sight. Where you believe for things greater than any human hand can provide. An adventure where your greatest call is to love all unconditionally, to go places where others don't dare simply because God said so. So do you choose adventure?
I hope these quotes have inspired you as much as they inspired me. If you would like more information on how to join missions and do a YWAM DTS please click the link below. Your adventure could start here!
For more blogs check out the links below!
3 Lesson's Learned From the YWAM DTS Community
6 Do's and Don't's of a YWAM DTS