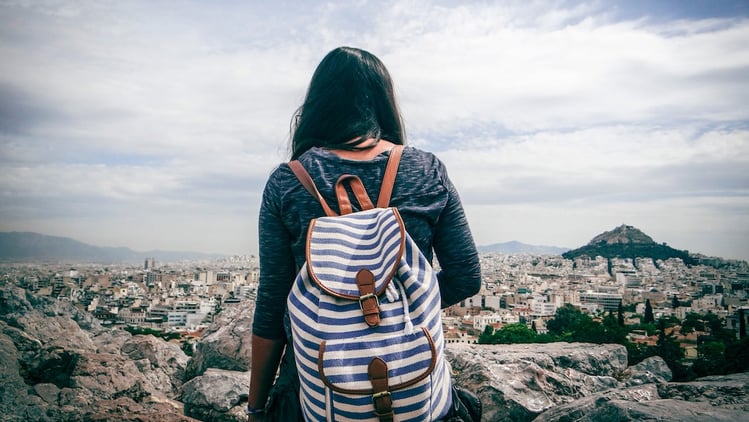 I've had many different experiences throughout the length of my life. This has been and continues to be the most incredible one to date. I am writing you through what I have lived and what I continue to experience:

1. You desire to have an intimate and deep relationship with God
Spending alone time with God is the best part of my day. I can't even begin to explain to you the sensations and the wisdom that I receive in those times. I deeply believe that the fullness I experience starts through my connection with Him.
2. You want to make the love of God known to others
I knew that I wanted to show the love of God to others, but I didn't know how. While I was on outreach in Amsterdam, I learned that in order to give love, I first needed to have it. I'm talking about a kind of love that doesn't run out when my physical strength does nor one that depends on my emotions. It is a love that simply and solely comes from God.
3. You are willing to live on the other side of the world
Timbuktu, Haikou, Kathmandu or Zambia. There was a moment where I felt I was truly willing to go anywhere, not caring how far or how close it was, as long as God was the one who told me where I must be or where I must go.
4. You like adventure and the term "normal life" scares you
I'm one of those people who believes that the everyday life is more dangerous than adventure. I like to think about the purpose behind my job. It's exciting for me to imagine how extraordinary things can happen in any moment and in any place... such as in the middle of the jungle, in an office or in your home.
5. You feel like you're made for something more
One of my recurring thoughts is, "We are made for something more." It is not my belief that we simply exist to exist. I believe in eternal goals and I am filled with joy in simply imagining being part of something big; much bigger than my own life.
6. You enjoy helping others
Something moves in my heart whenever I see someone in need; whether physical or of the soul, there is no denying the feeling that it is there. Before I would simply get sad thinking about them, but now I know that there are ways to help and to be a part of change in their lives.
7. You love to discover new places
When it comes to traveling, I like to think like a traveler and not like a tourist. I love to see how people really live. Spending time with the locals gives me true vision into the place I'm in; which leads me to the next point...
8. You love new cultures
It is so valuable to me to be able to live right in the middle of a new culture. In chatting with people from different countries and learning about their cultures, I am able to see diversity like a great treasure, revealing to me how incredibly creative our God is.
9. You care more about experiences than material things
I was serving at a refugee camp in Greece when a middle eastern girl hugged me and called me "sister". To feel the kindness of someone you just met, to experience love that has no language barrier, or to give a hug to a Syrian boy who would travel to another country to gain his freedom; these are a few things money cannot buy. They make me realize that this is what life is really about.
10. You believe that with God, nothing is impossible
Yes, send me! Those are the words that I said to God. I knew that the all powerful God would walk with me hand in hand, wherever that would be; and that is the only security that I need. I have seen things that we call "impossible" become reality. I have seen miracles happen and have also experienced them myself; like the day God healed me from depression, or when I saw a little boy who could barely stand begin to run. All of this done in the name of the only living God.
"What is impossible with man is possible with God - declared Jesus" [Luke 18:27] "I am the Lord, the God of all mankind. Is anything too hard for me?" [Jeremy 32:27]
Now, you have the opportunity to come and write your own story.
Say to God, "HERE I AM, SEND ME!" It is the most amazing adventure you could ever live to have.

16 reasons why you should do your YWAM DTS in Mazatlan, Mexico
Sign up now: