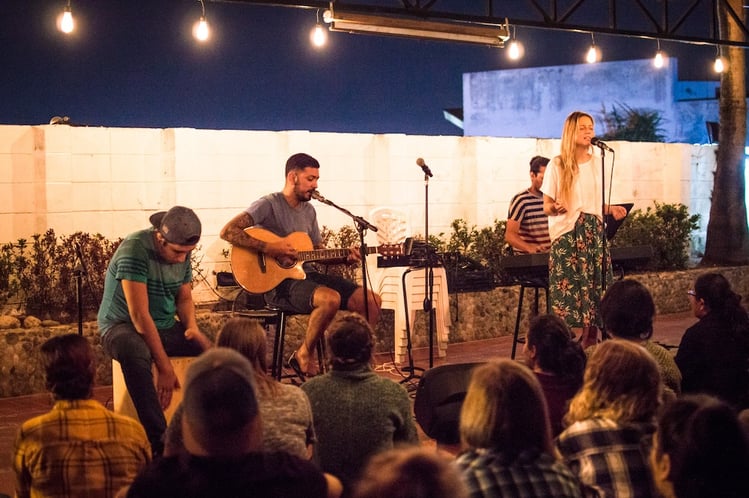 "During the first worship time on my YWAM DTS I felt at home."

One of my favorite times in YWAM Mazatlan is the time of worship. I love spending quality time in the presence of God.

For many years I prayed that I could share moments of worship with people who are passionate for the Lord; that connection of willing hearts to give everything for their purposes... it prepares a perfect atmosphere to welcome the Holy Spirit.

I love seeing how in YWAM Mazatlan nothing stops us praising Him. There's no shame, if you want to dance, if you feel like praying aloud, if you want to get on your knees, run, jump, just do it! You are free to shout His name and to give him all the glory and honor.

"It's a precious time for me, because God has made me understand that I am his daughter, and that He is my father, regardless of anything He is always there, and at any moment I can raise my arms to Him and tell Him that I want Him to lift me up and he will carry me in His arms. -Andrea from Colombia

"During the first worship time on my YWAM DTS I felt at home. It doesn't matter which country you are in, as long as you are surrounded by people who love Jesus." -Nikolai from Germany

"Worshiping allows me to see God for who he is. It calls me to a deeper level of belief and sets me free of lies. Through dance and voice, I release the truth God reveals and my heart chooses to trust his desires instead of mine." -Jenaya from USA

"I really like worship and praise in YWAM Mazatlan. It's a time when you can express yourself to God with all of your heart; without the fear of being criticized... a place where I can focus on God completely. The worship band playing unites us to participate with others to worship God in the same heart." -Erick from Mexico

There are countless more stories just like this but nothing compares to living it! Come and worship with us!