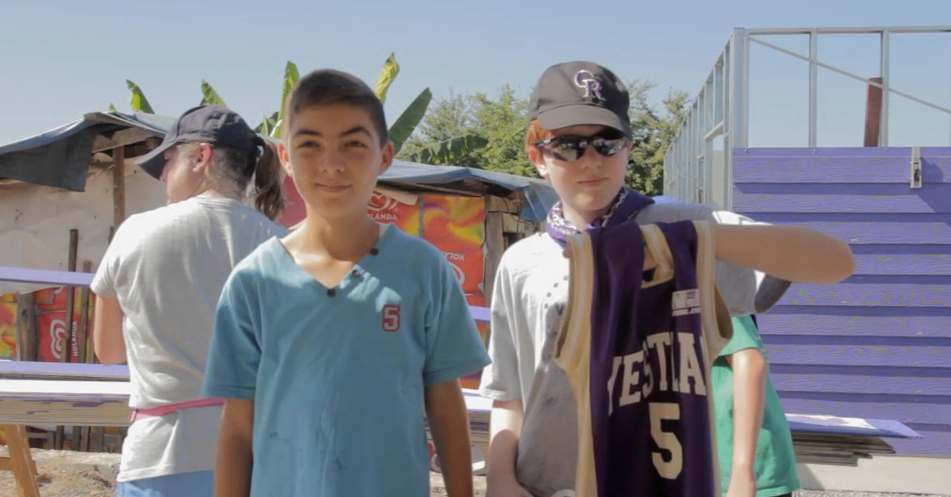 In the United States, we treasure our Thanksgiving weekend as the beginning of the busy holiday season. It's a few precious days set aside for kids to come home from college, for the smell of pumpkin pie and turkey drifts through the house, and for crisp, cold weather. We spend a lot of time talking about what we're thankful for—friends, family, a home, safety, freedom—but how often do we really show it?
---
Not often enough.
Over this past Thanksgiving weekend, YWAM Mazatlan had the honor of hosting thirty-nine individuals and families from Indiana to work with Homes of Hope. For two days they drilled, painted, and hammered to build a brand new home for a Mexican family.
One family in particular, the Taylors, were incredibly impacted during their few days in Mazatlan. Their eldest son, Elliot, rapidly became friends with Hanhiel, the little Mexican boy who was going to receive the home. During the first morning of the build—in the midst of all the busyness and building—Hanhiel found out that it was Elliot's thirteenth birthday. He quickly ran back to his old cardboard shack to retrieve a pair of brand new basketball shorts. Now, in these poor neighborhoods, kids rarely get new clothes. This family has been living in devastating poverty for years, and their kids are lucky if they get someones used clothes. You can imagine everyone's surprise when Hanhiel reappeared and handed over his new, prized clothing to Elliot as a birthday gift. His mother burst into tears at such a generous gift.
We often lose sight of what really matters. We get all choked up in the latest styles, the newest technology, the amount of Christmas gifts we need to buy. It's so easy to forget what's most important—like the fact that just south of the border, there are people living in tiny houses made of tin and garbage scraps.
---
But you can make the difference.
You have the ability to move a family off of a dirt floor and out from beneath a flooding roof. You have the opportunity to eradicate poverty. You have the privilege of blessing a family with a warm, new home, with a sturdy roof over their heads, with comfort and security.
So how will you spend your next holiday? Come and join us here in Mexico and be the change that is needed in these people's lives.
---