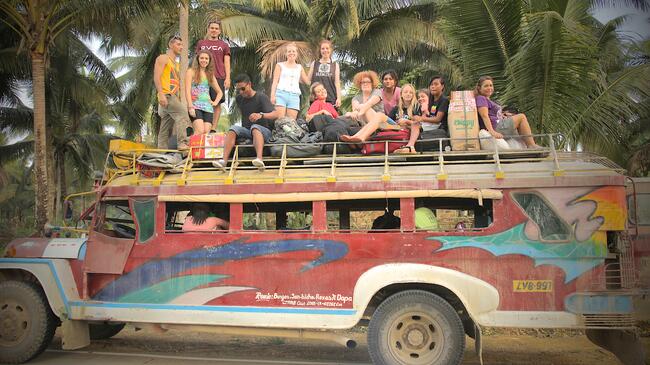 There's nothing like your first decision as an adult. The "what do I do after high school?" question. As a graduating senior there is a lot of pressure to consider all kinds of things like college, the military, get a job right away or take off a year and do something else. So if you're in that place, we'd like to throw out another opportunity to consider. Here are 3 reasons why you should consider doing a gap year.
1) Find what you're really passionate about
We all know at least one person who went to university straight after highschool and by the time their sophmore year of college comes around, they've changed their degree 2-3 times. A big reason why this happens is because they don't really know what they want to do. So how do you find what you're passionate about? Go somewhere and serve, do things you've never had the chance to do. Some you will enjoy, some you will hate and some things will just click, and you have that "aha" moment, where you know that "this is what I was made to do". Here's a testimony from a Callie Young, who did a gap year before heading off to university.
After I graduated, everyone thought I was making a mistake by doing my dts prior to college. In my mind, though, I wasn't quite sure how I could best use my talents and abilities to serve the Lord. My dts was an opportunity to gain a better understanding of my faith and God's calling on my life. The school provided me with a firm foundation from which I was able to recognize my love for cultures, languages and community development. Since then, I have completed my Bachelors degree in Intercultural Studies and nearly finished my Masters in Biblical Studies. I do not view dts as a deterrent from college. Instead, I see it as an opportunity to figure out your passions and direction in life before making a huge investment into higher education.

- Callie Young, Lee University
2) Learn to appreciate other cultures
When you go overseas you are bound to run into new sights, sounds and smells. It's one of the exciting things about doing a gap year program, the excitement of the unknown. For example, in America we're used to seeing 1-2 people on a motorcycle, but in India it would be common to see a family of 5 on a motorcycle. When we go to the grocery store, our meat is packaged and refrigerated, but in the Philippines your butcher will grab a piece of meat out of a bucket and cut off what you need. None of what you see is bad necessarily, just different and your time spent somewhere else will help you to appreciate those differences and learn to embrace them. At the end of the day, we're all better because of it.
3) Do something for someone else
Probably one of the best things about a gap year, is that you spend a lot of time doing things you never thought you'd do and you do them for people you don't even know.
James 1:27 says "Religion that God our Father accepts as pure and faultless is this: to look after orphans and widows in their distress and to keep oneself from being polluted by the world."
We can put our faith into action as we leave our home and go and serve
These are just a few reasons why you should consider doing a gap year. Do you have any others to add? Let us know in the comments.