Do you know that this January we'll have our first Ships DTS? You might be asking, what's so special about a ship? or what could you possibly learn from it?. Let me tell you a little bit of my experience and 3 things I learned living in a YWAM Ship during my DTS.
It's a good thing not to have "your own space"
We were 45 students living on the ship. We all had at least one roommate. I had never shared room with someone for more than a few days, so the idea of having to spend three months in the same room with a complete stranger wasn't very pleasant. As days went by I realized that living in such space was an amazing opportunity to get to know my peers better, to listen to their stories, to share our fears and insecurities, our triumphs, our struggles and failures. Suddenly I noticed that we all had a lot of things in common, and in just a matter of days, we stopped being just random people living together on a ship, we became family.
You can find silence in a place full of noise
I remember one weekend I was about to lose my mind! I was trying to think and process everything we had been learning on lectures, and for the first time in a while I longed to have a little bit of silence. I went out of my room and the mess hall was crowded with people, the lounge was not different, and the dock was being used to skate and the deck as a playing area. I ran to the front of the ship, sat down and cried out to God for just a second of silence, at least just one! When I lifted up my eyes I stumbled upon one of the most beautiful sunsets I've ever seen in my life. I was absolutely captivated by the beauty of the landscape and the colors that painted the sky. The sound of the waves, the warmth of the last rays of sun and the coolness of the breeze blew away all the voices and noise around me, it was as if all of a sudden everybody on the ship had disappeared and it was only God and I.
The things we look down on are those that bring more blessing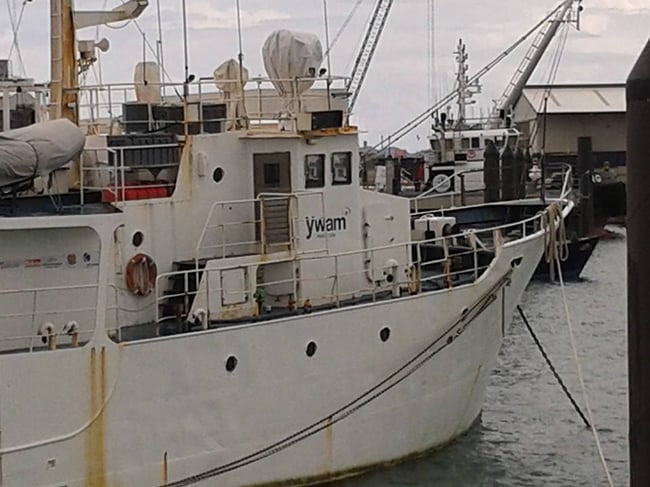 The first time I saw the ship, I have to admit, I had mixed feelings. On one hand I loved it just because I was going to live on it, but on the other hand I thought "what a piece of junk!". It was an old ship that needed to be fixed constantly. At first glance, nobody would believe what the Pacific Link is capable of doing, but that's the beauty of this and many other YWAM Ships. Even when they don't look like much and no one believes in their potential, they've taken thousands of volunteers to the most remote places in the world bringing medicines, training, social development projects, eye and dental surgeries and, above all, have brought hope and God's love to these places. When I found out about all this I realized that a lot of us look at ourselves the same way I saw the Pacific Lin, we look down on us believing we don't have what we need to be used by God to transform the world, or that we're too weak or small to achieve anything. This is the biggest lesson the Pacific Link taught me, that this is the type of people God chooses to demonstrate his power and love.
If you ever thought this way, if you think that you have nothing to offer, if people had always told you that you are nothing and you believe it, know and remember that God chose things the world considers foolish in order to shame those who think they are wise. And he chose things that are powerless to shame those who are powerful. 1 Corinthians 1:27
For more information on DTS check the link below!
For more blogs like this one check out the links below!
3 Things a YWAM DTS Can Teach You About Living Simply
4 Lessons Aspiring Missionaries Can Learn by Traveling