Being in the media department, I get the incredible opportunity to hear stories from the many people that come through our organization. Part of my job is to listen to those stories, help tell them through video and share them. On some of those occasions, I spend my whole day filming at the work-site in the colonia with the teams that come to build with us through our ministry Homes of Hope.
The first two builds I filmed were for teams who have built with Homes of Hope before, some for several years in a row. This last home was built by a team who had been wanting to do something like this as a family for years. However, with older children who have families of their own, it's not easy to get everyone together. The parents, Dave and Julie Blick, who did their DTS (discipleship training school) with Youth With A Mission in Lakeside Montana, have raised a beautiful family of five to pass on their legacy. Dave and Julie's three oldest children, Ben, Nate and Randi followed in their parents footsteps while pursuing their own relationship with God through discipleship training schools in different locations with Youth With A Mission as well.
During the three days of the house build I got to be around the family interacting with them as they built the home. For me, the highlight was seeing the way the family themselves interacted, helping one another out and just enjoying what they were doing and doing it together. I didn't feel like an outsider. The genuine love the family had for each other overflowed to those around them. From interacting with the staff of YWAM Mazatlan, who hosted the build to the neighbors and the sons of the family they were building for. I felt like I was part for their family, which for me was a blessing since I had just left mine in Texas to come back from Christmas vacation. One day, Julie, put her motherly arm around me as I shared with her how I missed my family back home. I kept thinking throughout the week, if my family was together in the mud, working hard and feeling restless - it would be chaos! We would be arguing, seeing the worst side of each other. But the Blick family was always so full of joy, enthusiasm and patience with one another.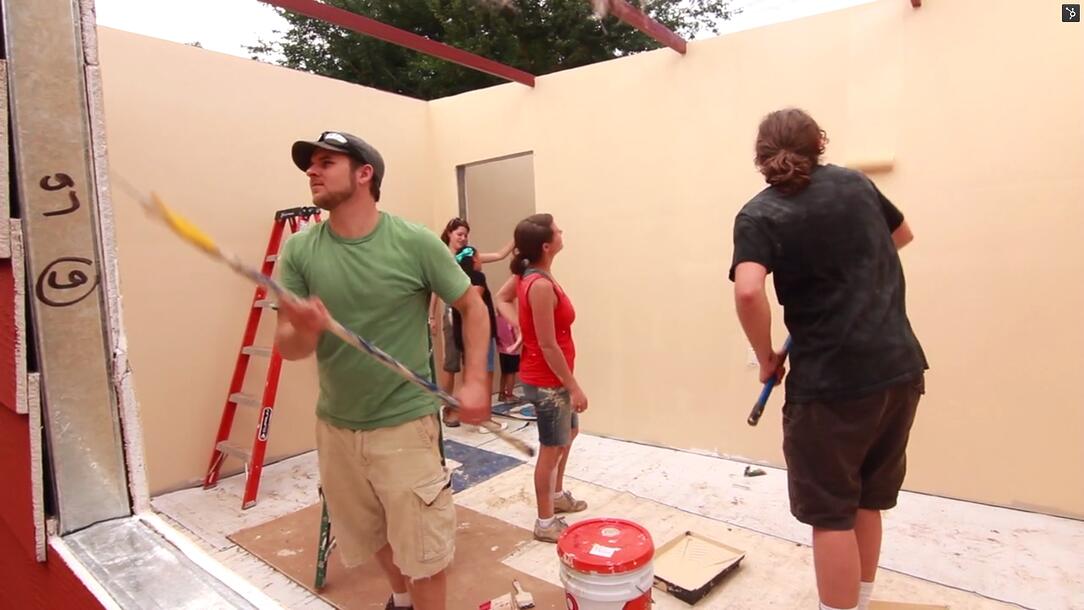 Their words and their actions showed their love for one another. I am reminded of the scripture in John chapter 13, verse 35:
"They will know you are my disciples by your love for one another."
One of the coolest things to experience, was seeing the young children out all day at the work-site. Dave and Julie's eldest son, Ben and his wife, Liz, brought their family to Mazatlan, Mexico for the build. Ben and Liz have three beautiful, happy, funny children. Naomi, their 3 or 4 year old daughter, is bright, smart, fun and silly! Sweet little Judah, is a cute, happy, warm, kind-hearted 2 year old little boy that brings smiles to everyone around him. I would have never known if someone didn't tell me that he had down's syndrome. He is a gift! And the baby of the family, Elaina, bright, blue eyes, content as can be. It's not very often that young children accompany the teams. And as much as a challenge it may have been for Ben and Liz to work and take care of the children, it was more a joy to have them around and to see the whole family take turns caring for them. Ben and Liz would take turns working and taking care of the two younger ones - you would see Liz carrying baby Elaina in a sling while painting, Ben making sure Judah wasn't getting into tools or something dangerous, but most the time he was content with a snack and the friends he made and Aunt Randi and Uncle Nate helping Naomi paint the siding or seeing big girl, Naomi carry siding with her mom and grandma. The children did so well out in the sun all day and around the construction. Naomi did such a good job being a big girl, helping to build the home, painting, sweeping, dusting. Judah, outgoing and full of excitement, became friends with the neighborhood children. The experience for not only the whole family, but for Naomi to see what it means to love others through our actions is priceless. The family kept commenting on how amazing the kids were doing and that one of their prayers was for them to do well - and they were! The family was so blessed and honored to be the ones able to do this for a family in need. Even though at times, it was challenging and they didn't think they could do it in their own strength, God provided all the money and the means to do it. Each day, the Blick family felt the prayers of their church back home, who not only helped them in support for the finances of the building the home but in prayer for the team and the Espinoza- Paez family receiving the home.
At the end of the three days, the family came together to put the finishing touches on the home, filling it with furniture, food, clothes and cooking utensils. The Blick family was full of joy and anticipation. You could see the smiles on their faces and see just how much fun they were having as they made this house a home for another family, so grateful to finally see the goodness of the Lord in their lives.
Here's a little example of how to become a missionary... Take a glimpse of the build with the Blick family below!