Every two years, YWAM's (Youth With A Mission) University of the Nations (UofN) hosts UofN Workshop conferences for YWAMers across the globe to attend. These workshops are held in different parts of the world and serve to equip, inspire and encourage the staff and students of YWAM and spread the news of what God is doing in the nations.
The University of the Nations, based in Kona, Hawaii, was founded within Youth with a Mission. The U of N is unique in its international missionary training scope with school locations in 101 nations on all continents. U of N serves and equips YWAMers all over the world to fulfill the Great Commission, from schools and seminars to Associate's and Master's degrees from a wide variety of courses and departments.
This year, the conference was held at the San Antonio/Del Mar base.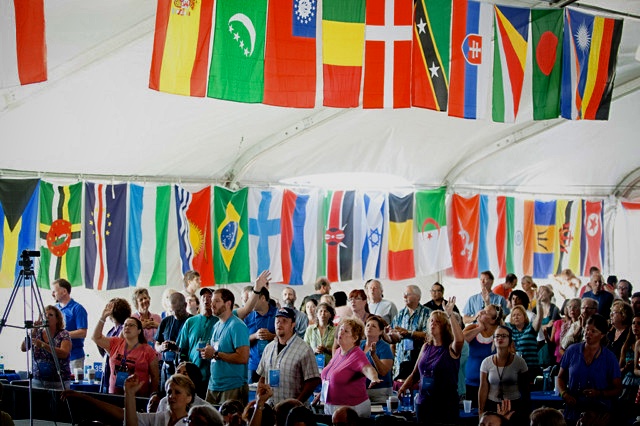 Last week, we made the trip to Tijuana, with all of our staff and the July DTS students. What an incredible experience it was to meet with over 800 other YWAMers, all from different parts of the world and see not only that we are a part of what God is doing in the earth, but the bigger picture of Youth With A Mission. The conference theme was Expand, Intimacy and Impact.
During the week of the conference, there were daily sessions available to us. Each morning started with a time of worship and diving into God's Word and then sessions with guest speakers, Markus Steffen, Bruce Wilkinson, Bruce Kuhn, David Hamilton, Dr. Scott Carrol and Youth with a Mission founder, Loren Cunningham. In the afternoons, we had the option to attend one and a half hour sessions with several different speakers/teachers and base directors. These sessions included topics like, Human Trafficking, Know Your Outreach, Homosexuality and God's Original Design for Relationships, The Bible and Transforming Nations Through Transforming Families and they encouraged us, challenged us and gave helpful insight and practical steps to living out the word of the Lord for our lives.
Each afternoon, guys (and few girls) gathered together on the soccer field at the base for the a Football/Soccer World Cup Tournament during the lunch break. Our staff and student guys really enjoyed those days on the field!
You can watch the Sessions and other happenings from the conference HERE.
The next UofN Workshop will be held in Townsville, Australia September 8 through the 13th, 2015!